The client
Unlimited Lab, London
Design challenge
"…to design products that will encourage people to repurpose waste in creative ways".
Team
A multi-disciplinary team of four coming from Germany, Irland, Mexico and Slovenia (me)
My role
Product Designer / Product Lead
Creatively produce user journey maps and guides to support the product vision
Conduct layout adjustments based on user feedback
Adhere to style formats, colours, and images
Taking broad, conceptual ideas and turning them into a useful and valuable product
Design simple and elegant flows for users and partner with engineers, researchers, and content strategists to oversee the user experience of a product from conception until launch
Gathering user requirements, conceptualizing ideas through an interactive visual designs, prototypes, and mockups
Designing graphic elements, designing user personas
Illustrating design ideas while using storyboards and user journey maps
Conducting user research
Developing UI mockups and prototypes to illustrate how experiences function and look like
Identifying potential product and UX problems for users
Solving product and design problems and finding solutions by gathering and analyzing information, formulating and testing hypotheses, developing and communicating recommendations
Implementing solutions for consumer-focused products and services
Translating business problems, and user needs into efficient experiences and compelling user interactions
Researching and implementing design trends
Communicating design work, negotiating future direction with peers
Analysing the market to develop a better understanding of customers' needs
Testing prototypes, test how current users use the product, what their problems and needs are, and make sure that these are addressed in the new design
Adobe Illustration
Adobe Photoshop
InVision Studio / InVision Freehand
CO2 laser
Broken electronics – headphones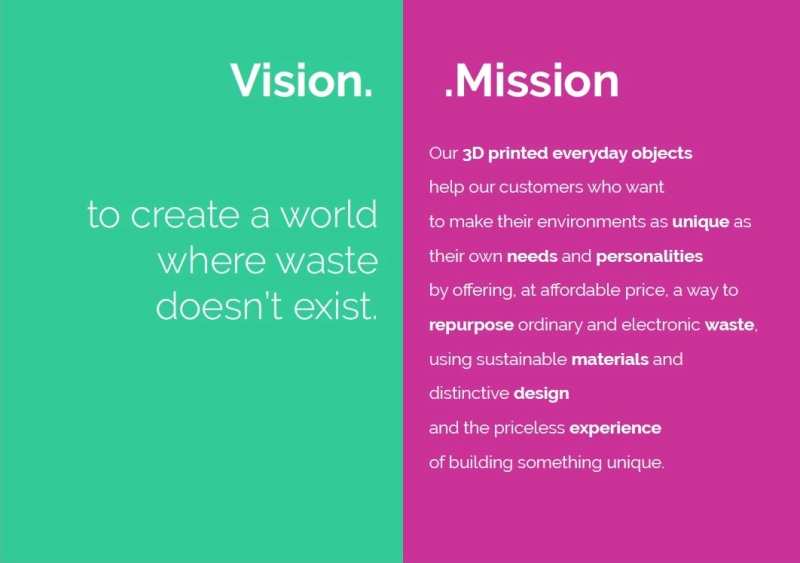 Unlimited Lab is a creative place where entrepreneurs, artists, and all creative minds have the opportunity to develop a product for their businesses.
Unlimited Lab's vision is "to create a world where waste doesn't exist" and its mission is to design consumers' habitats exclusive to their needs with the contribution of sustainable materials. Their main goals are to reverse the way we see waste and bring new value to it by bringing it into new resources, for instance, sustainable material for 3D printing.
To execute this task successfully we were working at the Fab Lab London – today: Green Lab.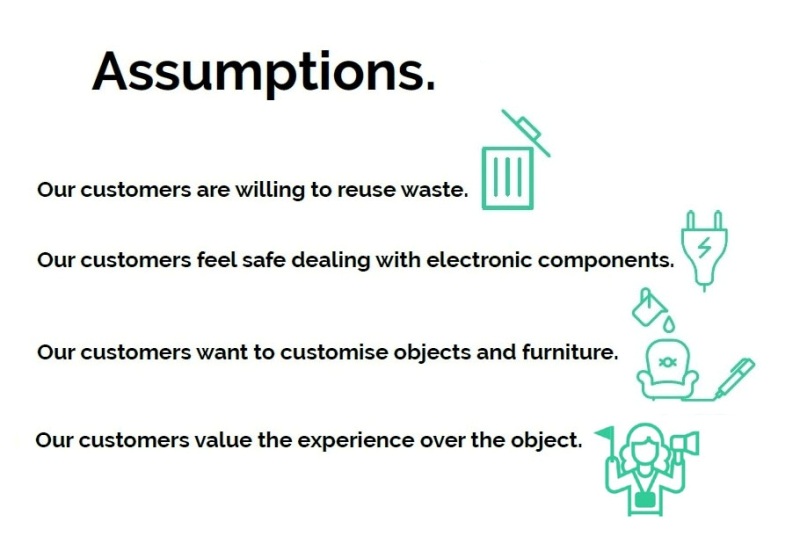 For this project, the first step was to carefully review four given assumptions (on the left) as we needed to include those facts in our product.
Those four assumptions represented the behaviour of our consumers, so we needed to combine all of them in our final product/ service.
4W
After we got familiar with the assumptions our consumers are most likely going to be facing with, we started to think about how to transform the idea through MVP into the final creative output. We followed the 4W principle
Users – Who, What, Where, When, and How People Work
Research methods: interviews
Interviews
During the discovery phase of this project, we conducted user interviews in order to get a better understanding of the problem and our users.
Personas
Based on the interviews we set up three personas, which we referred to them throughout the entire product development process.
I mapped out the users' steps to see how I could simplify their journey to help them reach their most important goals with the product.
I usually start the design process with sketches or low-fidelity wireframes as this is the way I iterate through many design options quickly. For this particular project, we started to sketch the part of broken headphones in Adobe Illustrator. The main purpose of the sketch was to test the design and brainstorm with the team. We already had basic information about our users, so the designs were aligned with their goals and needs. We made quite a few iterations before the final design.
We started to think about which broken product we have at home, but at the same time feeling attached to it. The product that we do not want to throw it away and represents a "waste" to which we could bring new value by designing some missing pieces. Through conversation with my group, we have realized how many of us actually have broken headphones that are just taking place in our wardrobes but no one has the courage to throw them away. The reasons varied from person to person. From having nice memories while listening to a certain song and wearing those headphones, paying a lot of money for them, receiving them from a special person, etc.
MVP process
Prototypes
This would be the most suitable solution to the problem of creating a service/ product where users could reuse their waste in a creative way and we designed our first prototype in the pictures below.
After a file in Adobe illustrator was created our frame for the headphones was ready to come to life. We used wood and a technique of laser cutting with CO2 laser. We chose the suitable wood and afterward based on the Adobe file our design was laser cut by the machine shown below.
And here goes the product we have designed combining a waste of broken headphones into a new innovative product made from wood. Our design brief "…to design products that will encourage people to repurpose waste in creative ways" was therefore achieved.
💼 Business plan
1. NAME: FraMe. (Frame me)
2. SUMMARY: Customized 3D frame for your broken headphones.
3. INSPIRATION: Too many times we have bought expensive noise reduction headphones where the head set breaks and they become useless. We aim to solve that problem by supplying custom frames to fit to broken headphone sets to cut down on waste. With customised colours and sizes, you can have your own individual style headphones without having to spend a high price for a brand new set.
4. THE NEED/ PROBLEM: Solve the problem of broken headphone frames, without having to buy a new pair, reducing the waste of having too many useless headphones at home.
5. PRODUCT: FraMe is a wooden frame with size customization. We have created two flexible mechanism for attaching the headphones to the frame. This represent Y shape where headphones slot onto. Then we covered it with a rubber sock where the headphones goes into, which is attached to the frame. Customized wooden frame attach old headphones (broken frame) to.
Works like: Ergonomic, comfortable, light, recycable, smells nice like fresh wood:)
Looks like: Unisex, sleek, shape to head size, colours option, reduce waste, maintain the sound quality of the original product.
6. ALTERNATIVES: The only alternative to our product is to buy a new set of headphones, adding to consumerism, increasing waste and adding to the lack of sustainability in our society.
7. FIRST CUSTOMER: Hobbyist, women & man that cares about the environment, design / electronic savy, musician.
People who wants to: reuse waste, electronic components, customize objects.